Latest News
The Singapore Amateur Radio Transmitting Society (SARTS) is a non-profit organization for amateur radio operators and enthusiasts in Singapore. SARTS is a member society of the International Amateur Radio Union (IARU), Region 3, Asia Pacific.
---
Quarterly SARTS Meetings
Our next quarterly meeting will be held on Friday, November 10, 2023, 20:00 SGT. Talks hold during previous meetings are available under the category SARTS talks.
Place: National Library Building (NLB), 100 Victoria Street, 3rd floor, function room 1
Singapore Ham Flea Market
SARTS meetings are now a great place to buy and sell your used ham radio gear! Feel free to bring in your equipment to show, sell, and trade or just give them away. Tables will be set up for anyone who wishes to use them.
Future planned meetings in 2023/2024:
Friday, Feb 23, 2024
SARTS Membership 2023
For renewal and application please use our online member application/renewal form.
---
VHF/UHF Repeater
SARTS operates two linked repeaters in Singapore, VHF in the West and UHF in the East. Both repeaters are linked up.
9V1RS
VHF
Repeater Transmit (you listen): 145.625 MHz
Repeater Receive (you transmit): 145.025 MHz
CTCSS Tone (TX and RX): 156.7 Hz
9V1RMP
UHF
Repeater Transmit (you listen): 438.425 MHz
Repeater Receive (you transmit): 433.425 MHz
CTCSS Tone (TX only): 156.7 Hz
Our VHF repeater, 9V1RS, is located at Harish's place, 9V1HP. QTH locator OJ11vh. The UHF repeater, 9V1RMP, is located at Victor's place, 9V1BH, QTH locator OJ11wh.
Report issues with the repeater
---
Sunday VHF Net Call
Join our Net call every Sunday at 4 PM (08:00 Z) on the SARTS repeaters.
---
OpenWebRX
The WebRX is operated by 9V1KG and runs 24/7 on a Raspberry Pi 4 using the Airspy HF+Discovery SDR with an active loop antenna. It covers all HF ham radio bands and the short wave broadcast bands.
New to Ham Radio?
The Lion City Award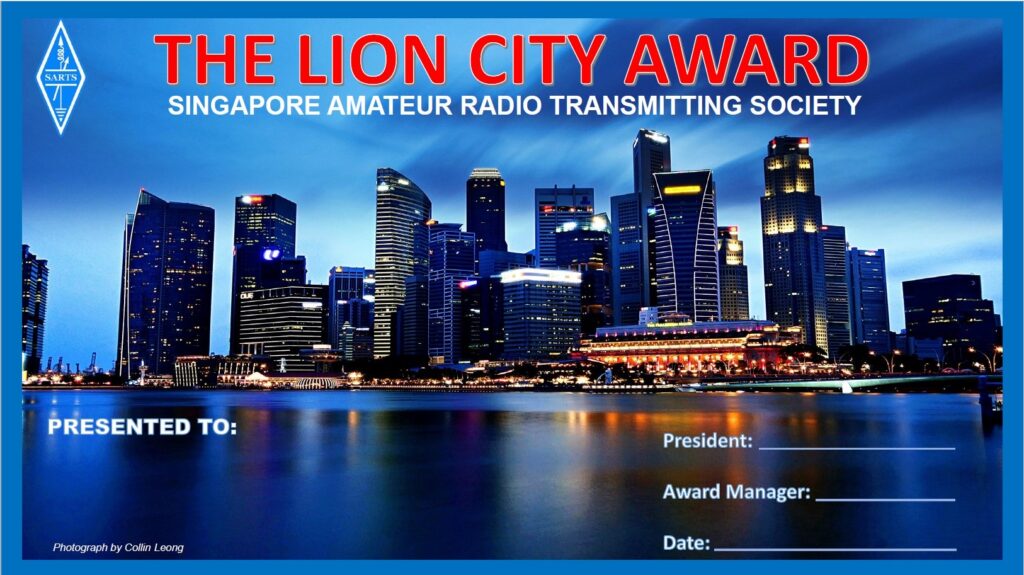 Hams outside CQ Zone 28 must achieve five confirmed QSOs with 9V1 stations to be eligible for this award. For hams within CQ Zone 28, the requirement is ten confirmed QSOs.
Applications for the Lion City Award should be sent to SARTS, attention to The Awards Manager.
---
Contact SARTS
Mailing Address
SARTS
Robinson Road P.O. Box 2728
Singapore 904728
E-mail
Please find the answers to questions about amateur radio visitor's licenses and operation in Singapore in this section. Questions about getting a 9V license here.
For other issues you might get in contact with SARTS through this web form.

---
---