The Singapore Amateur Radio Transmitting Society (SARTS) is a non-profit organization for amateur radio operators and enthusiasts in Singapore. SARTS is a member society of the International Amateur Radio Union (IARU), Region 3, Asia Pacific.
---
Important Notice – RAE
The Radio Amateur Examination (RAE) is back to normal schedule, starting next week with two candidates per session due to safe distancing measures.
Monthly Meeting
Due to the Covid 19 outbreak the March monthly meeting and all following meetings are cancelled. We will update you here about upcoming meetings at the Alumni Medical Centre, No.2 College Road, Singapore 169850.
---
VHF Repeater
SARTS is grateful to Jaya, 9V1AI for hosting the 2 m repeater in his residence at Dover Crescent. N1.306,E103.781, Grid OJ11vh, Antenna Height Approximately 110 m AGL
VHF Repeater Transmit (you listen): 145.625 MHz
VHF Repeater Receive (you transmit): 145.025 MHz
CTCSS Tone (both TX and RX): 156.7 Hz
---
Sunday VHF Net Call
Join our Net call on the SARTS VHF repeater every Sunday at 4 PM.
---
The Lion City Award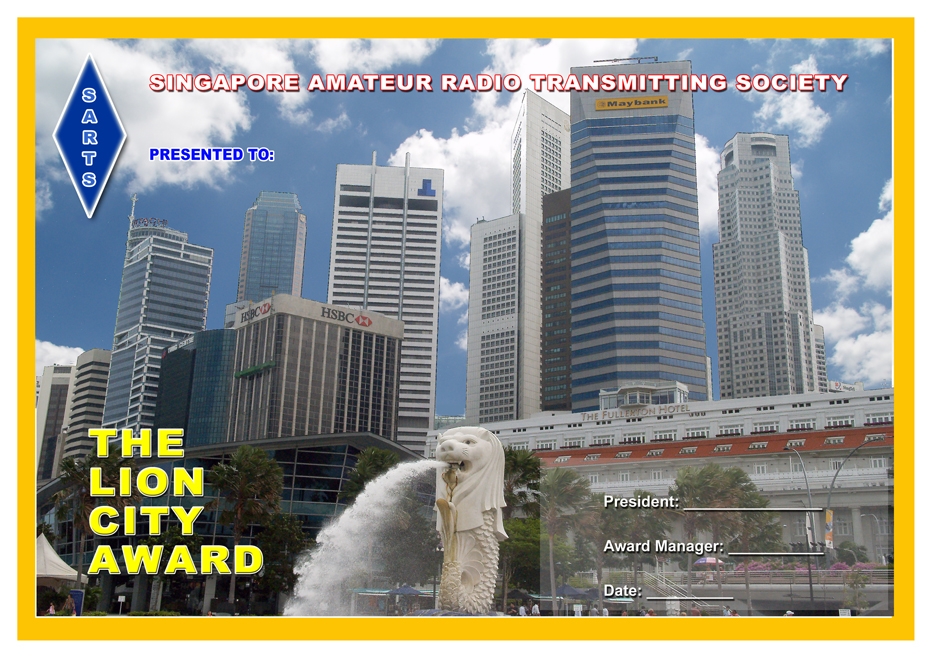 Hams outside CQ Zone 28 must achieve five confirmed QSOs with 9V1 stations to be eligible for this award. For hams within CQ Zone 28, the requirement is ten confirmed QSOs.
Applications for the Lion City Award should be sent to SARTS and attentioned to The Awards Manager.
---
Contact SARTS
Mailing Address
SARTS
Robinson Road P.O. Box 2728
Singapore 904728
E-mail
Please find the answers to questions about amateur radio visitor's licenses and operation in Singapore in this section. Questions about getting a 9V license here.
For other issues you might get in contact with SARTS through this web form.

---
---