Latest News
The Singapore Amateur Radio Transmitting Society (SARTS) is a non-profit organization for amateur radio operators and enthusiasts in Singapore. SARTS is a member society of the International Amateur Radio Union (IARU), Region 3, Asia Pacific.
---
Monthly Meeting
There is no meeting in August. Next monthly meeting via Zoom on Thursday, October 27, 2022, 20:00 SGT. Talks hold during previous meetings are available under the category SARTS talks.
Due to the Covid 19 pandemic all face-to-face meetings are cancelled. We will update you here about any changes and upcoming meetings at the Alumni Medical Centre, No.2 College Road, Singapore 169850.
SARTS Membership 2022
For renewal and application please use our online member application/renewal form.
---
VHF/UHF Repeater
9V1RS
Repeater Transmit (you listen): 145.625 MHz
Repeater Receive (you transmit): 145.025 MHz
CTCSS Tone (both TX and RX): 156.7 Hz
9V1RSE (SG East – offline)
Repeater Transmit (you listen): 145.675 MHz
Repeater Receive (you transmit): 145.075 MHz
CTCSS Tone (TX only): 103.5 Hz
9V1RMP (Marine Parade)
Currently analogue only!
Repeater Transmit (you listen): 438.425 MHz
Repeater Receive (you transmit): 433.425 MHz
CTCSS Tone (FM analogue): 156.7 Hz
FM analogue, DMR static talk group TG525 TS1, DSTAR 9V1RS__B, C4FM YSF-Network, one mode at a time. Please check if a signal is present before you transmit. The active mode can also be checked on the dashboard.
Our VHF repeater, 9V1RS, is located at Harish's place, 9V1HP. QTH locator OJ11vh. 9V1RSE is hosted by Arnold, 9V1CD, OJ11xi. The UHF repeater, 9V1RMP, is located at Victor's place, 9V1BH, OJ11wh.
Report issues with the repeater
---
Sunday VHF Net Call
Join our Net call every Sunday at 4 PM (08:00 Z) on the SARTS VHF repeater 9V1RS followed by a second net call on our UHF repeater 9V1RMP at 5 PM (09:00 Z).
---
New to Ham Radio?
The Lion City Award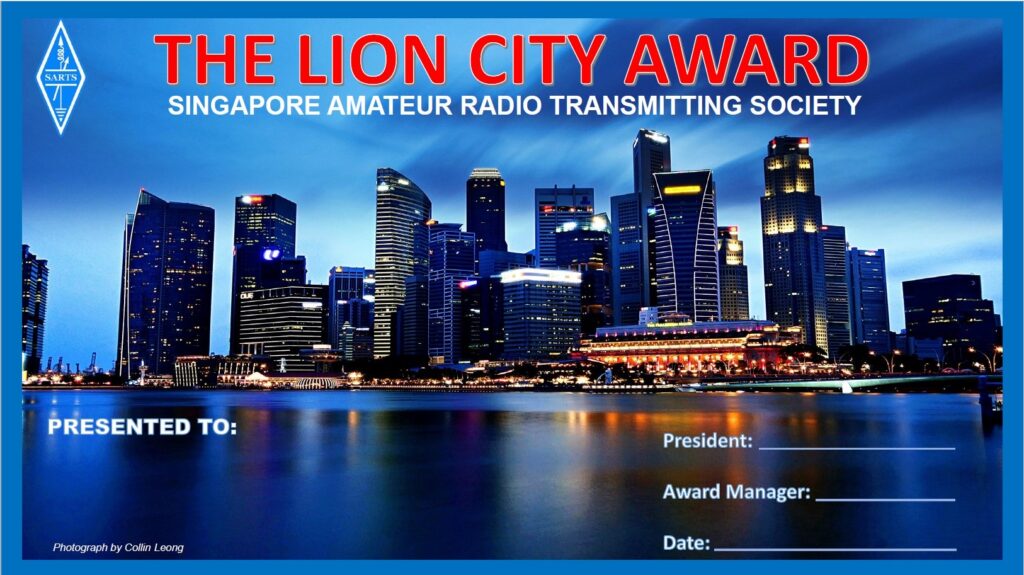 Hams outside CQ Zone 28 must achieve five confirmed QSOs with 9V1 stations to be eligible for this award. For hams within CQ Zone 28, the requirement is ten confirmed QSOs.
Applications for the Lion City Award should be sent to SARTS, attention to The Awards Manager.
---
Contact SARTS
Mailing Address
SARTS
Robinson Road P.O. Box 2728
Singapore 904728
E-mail
Please find the answers to questions about amateur radio visitor's licenses and operation in Singapore in this section. Questions about getting a 9V license here.
For other issues you might get in contact with SARTS through this web form.

---
---