by Solomon, 9V1BC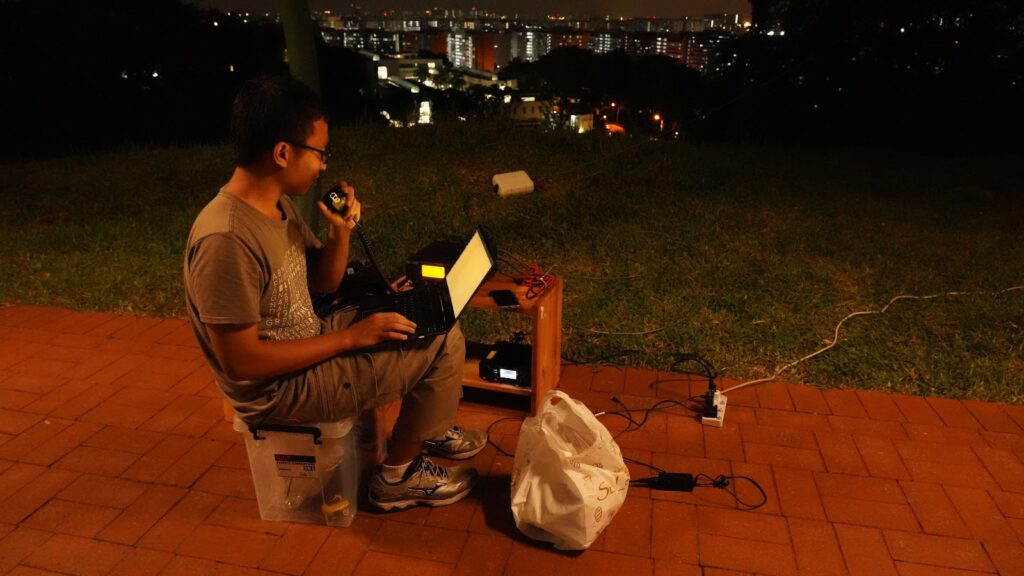 Contest is by no means exclusive to the elite HAMs with large tower, yagis, fanciful equipment and years of experience. They do have an advantage, but we rookies have a seat at the contesting table too. On March 27th and 28th 2021, I participated in my first SSB contest. It was the CQ WPX SSB contest. It was a very fun experience, and I was extremely excited that I could have phone conversations with HAMs in places as far as Europe and North America. In this particular blog, I share my setup, experience, and the lessons I learned from this contest. I hope it might inspire you to get an amateur radio license and join us in the next contest to foster international friendship. If you already have a license, well then, what are you waiting for?
My setup for the Contest
HAMs always like to ask each other what equipment they use, and I see this question coming my way. This is my equipment list for the contest.
Power Supply
Alinco DM-330FX
Radio
Icom 718
Antenna
Icom AH4 + Random Wire
Homemade Inverted V Dipole
Logger
Laptop running XLog
Contest Experience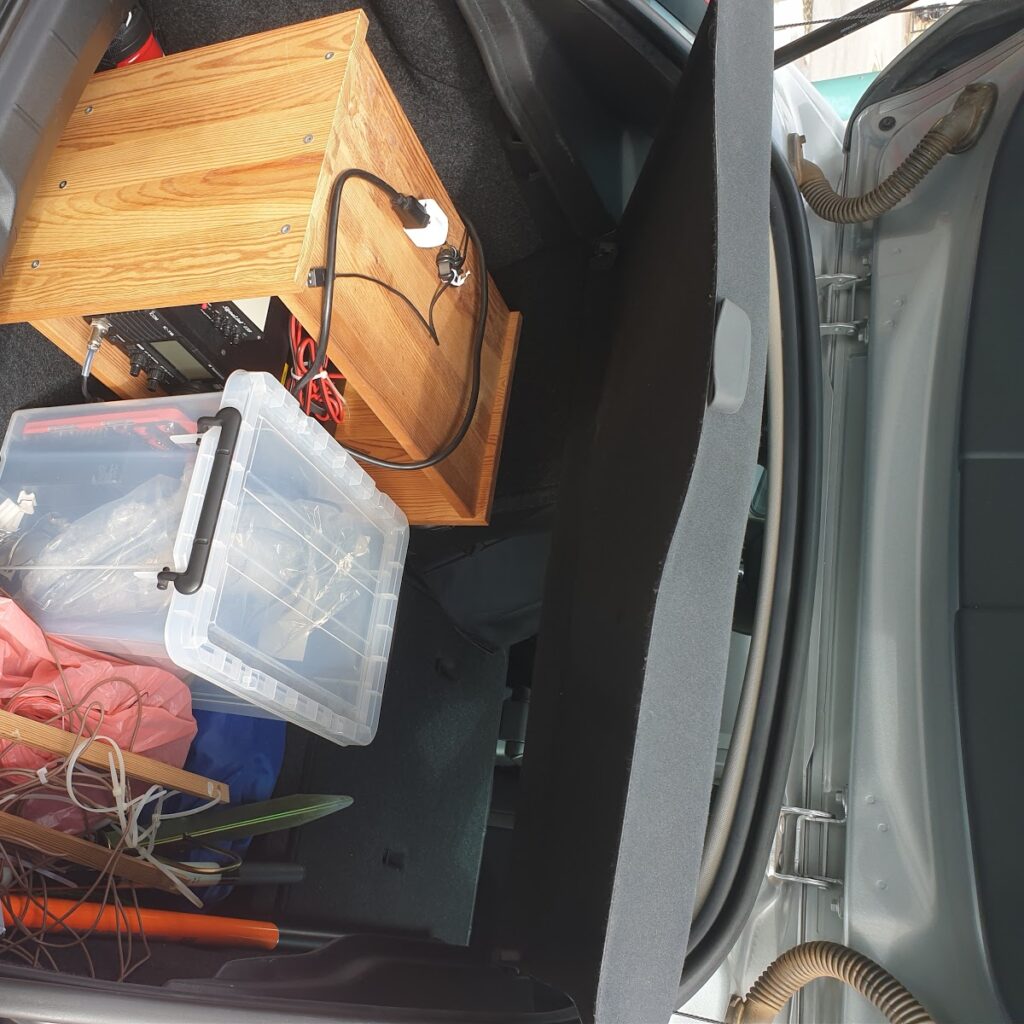 I packed up my stuff into the trunk of my car. It fit nicely into a small compact compartment. I brought a few tools – like a screwdriver and a small knife – and spare items just in-case I had to make quick field repairs. This setup is almost impossible to carry by hand or public transport. After all, the Icom 718 was made to be a base station, not a mobile one. I set up my station on a nice hill in my school. It was one of the areas I identified as potentially suitable for radio operation given its decent radio horizon, and relatively less noise compared to my home.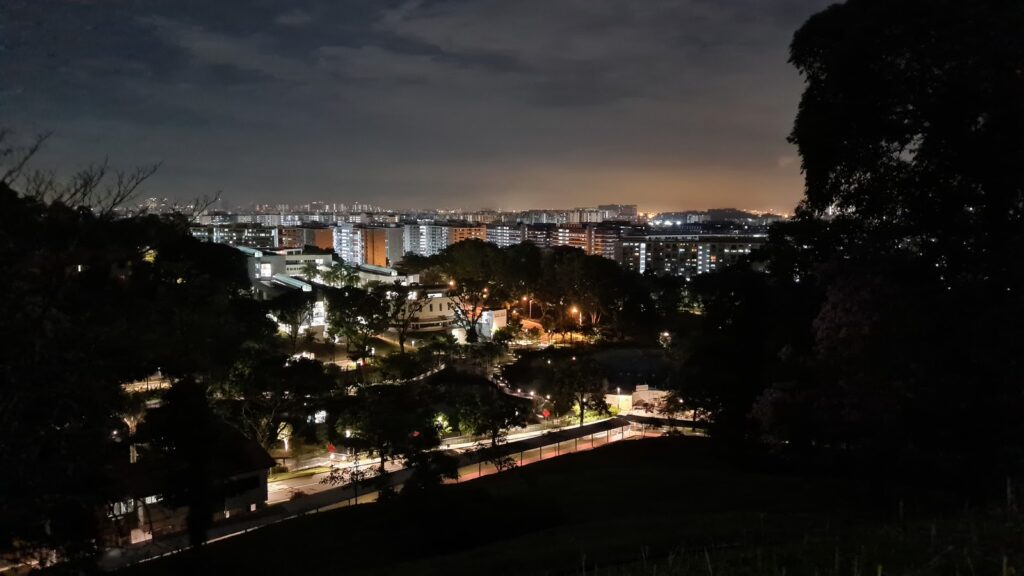 I set up my random wire antenna right beside the down slope. I did not want anything to block my signal. The white box is the AH-4 antenna tuner. It gives me the ability to switch bands at will. An antenna typically needs more time to be tuned and adjusted when the operator wishes to change bands. In this setup, a wire of random length is attached to the AH-4 tuner, and suspended off the ground by a fishing pole about 16′ high (5m). A ground wire is attached to the other end of the tuner and thrown down the hill. Antenna theory is very complex, especially with impedance, resonance and radiation pattern, I may have given you the false impression that I had taken them all into consideration in my setup. This was a bare minimum setup. I made no such fanciful consideration. My priority was simply to get on the air.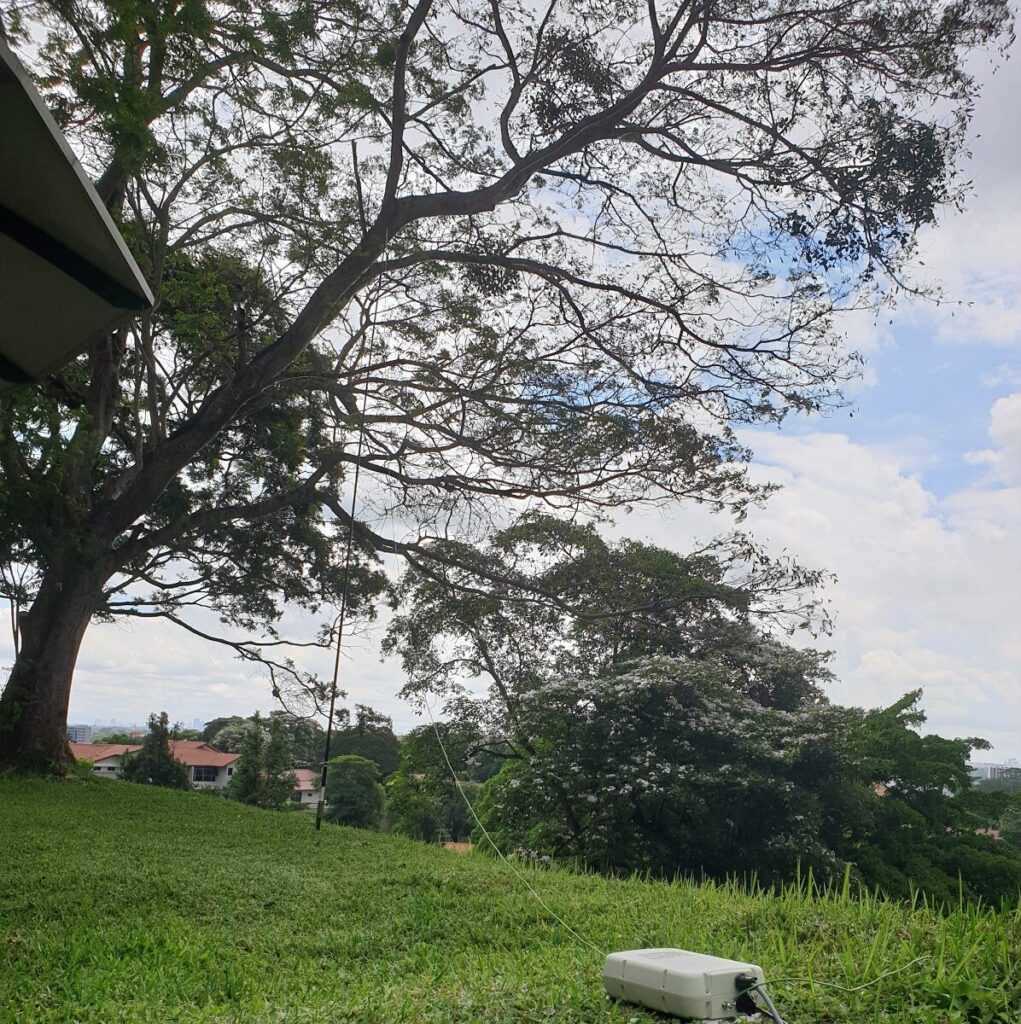 Unfortunately, barely half an hour after I set up, a huge storm streamed by and took away four hours of valuable contest time. What a wet blanket! The wind was so strong it bent my fishing pole a good 45°. But I wasn't too concerned about the pole breaking. I had a spare. I almost always bring a spare antenna. I resumed the contest immediately after the rain stopped.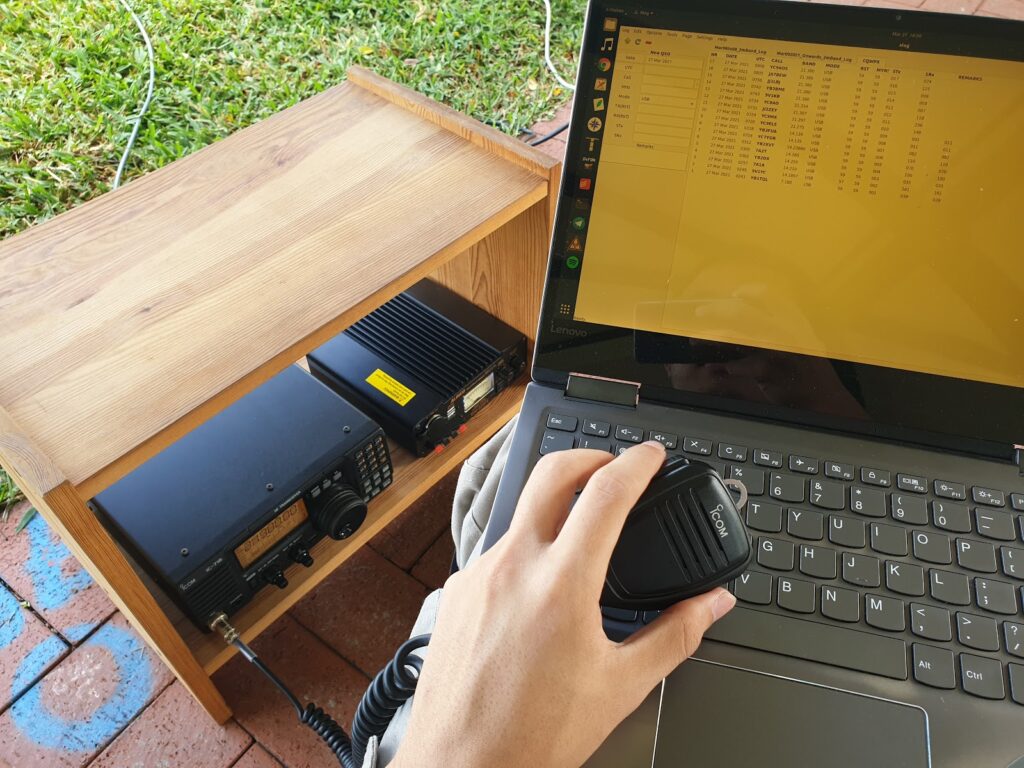 For almost the entirety of the contest, I either called CQ CONTEST on an empty frequency, or I tuned around on the dial to find others calling CQ CONTEST. I had my hand on the mic and the other hand on the electronic logger, XLog, on my laptop. During the first two hours of the contest, I only got contacts from Indonesia. Then I got contacts from Japan, and Australia. In the evening, I was very surprised to hear European and North American stations!
Time (UTC)
Locations Heard
0230 to 0320
Indonesia
0720 to 0920
Indonesia, Philippines,
Hong Kong, China, Japan
0920 to 1030
Indonesia, Japan, Australia, China
1130 to 1300
Indonesia, Malaysia, Philippines, China
1300 to 1800
Indonesia, Philippines, Australia,
United States, Ukraine, Slovenia, Serbia,
Italy (but Italy could not hear me), Poland
A contest SSB QSO goes like this:
Me: "CQ CONTEST CQ CONTEST 9 VICTOR 1 BRAVO CHARLIE CONTEST"
Him: "NOVEMBER DELTA 7 KILO "
Me: "NOVEMBER DELTA 7 KILO, YOURE 59, 068. QSL?"
Him: "QSL QSL. YOURE 59, 1509. GOOD LUCK FOR THE CONTEST. 73"
Me: "THANK YOU. YOU TOO. 73. THIS IS 9V1BC. CONTEST. QRZ?"
The key exchange in this contest is the signal report and the serial number. The serial number is particularly important as it is used to verify QSOs. In this case, ND7K's report to me is that my signal is 59 (meaning readability of 5 out of 5, and signal strength of 9 out of 9) and that I am his 1509th contact for the contest. My report to ND7K is that his signal is 59 (meaning readability of 5 out of 5, and signal strength of 9 out of 9), and that he is my 68th contact.
Sometimes I call CQ for a good 15 minutes or so before a station even responds to me. I would tune around the band then to see if the band had died. I wouldn't want to waste energy calling when no one can hear me. But that's how it is even more exciting when a station finally responds! My eyes light up and I get all excited!
Sometimes, the QSO does not go as well. Here's one example. He couldn't hear my callsign. Maybe I was being stepped on by other stations which could not hear me. Needless to say I gave up. I'd be wasting his time and my own trying to force the QSO through the QSB.
Me: "9 VICTOR 1 BRAVO CHARLIE"
Me: "9 VICTOR 1 BRAVO CHARLIE"
Him: "IS THAT A KILO BRAVO?"
Me:"9 VICTOR 1 BRAVO CHARLIE"
Him:"9 VICTOR 1. OK OK. QSB. QSB."
Me:"9 VICTOR 1 BRAVO CHARLIE"
Him: "I'M HEARING A 1 KILO BRAVO CHARLIE. AGAIN?"
Me: "9 VICTOR 1 BRAVO CHARLIE"
Him: "KILO 1 BRAVO CHARLIE?"
Me: "NUMBER 9. VICTOR. NUMBER 1. BRAVO CHARLIE"
Him: "OK. VICTOR ECHO 1 BRAVO CHARLIE. YOU'RE 59"
Me: "NEGATIVE NEGATIVE. NUMBER 9. VICTOR. NUMBER 1. BRAVO CHARLIE"
Him: "VICTOR ECHO 1 KILO BRAVO CHARLIE. Roger?"
It's normal to copy the wrong callsign and serial number. Everyone has a different accent. A few stations will do the exchange in their native language. I heard a few Indonesian stations do that with other Indonesian stations. A Chinese station gave me my report in Chinese. But not everyone understands each other's native language or heavily accented English. Thus, it is normal to hear people use other forms of phonetics to complement the NATO ones. Some examples are listed in the table below.
| | | |
| --- | --- | --- |
| Letter | NATO Phonetic | HAM Lingo |
| Q | Quebec | Queen |
| U | Uniform | United |
| O | Oscar | Ontario |
| G | Golf | Germany |
| J | Juliett | Japan |
| V | Victor | Victoria |
| K | Kilo | Kilowatt (not to be confused with kW) |
| F | Foxtrot | France |
For example, the callsign KJ7VOU could be phonetically spelled as "KILOWATT JAPAN 7 VICTORIA ONTARIO UNITED" instead of its NATO form, "KILO JULIETT 7 VICTOR OSCAR UNIFORM".
Sometimes when the signal is poor, HAMs will read back what they copy to verify. This is normal because some contests penalize for wrongly copied information. Those who watch military films like Generation Kill, police documentaries like COPS, or listen to online Air Traffic Controllers would be familiar with confirmation phrases like "read back correct", "affirmative" or "10-4". HAMs have a similar lingo. It is called "QSL". It means I acknowledge receipt of what you told me.
"NOVEMBER DELTA 7 KILO, YOURE 59, 068. QSL?"
"QSL QSL. ROGER THE 59, 068. YOURE 59, 1509. GOOD LUCK FOR THE CONTEST. 73"
However, like the NATO phonetics, many HAMs have their own unique way of confirming that the read back is correct. These are usually replies to the question, "IS THAT A QSL?", which asks you to confirm whether I have copied you correctly.
Phrase
Example
"Roger Roger"
Him: "9V1BC, YOU ARE 59, 1509"
Me: "059 3509. IS THAT A QSL?"
Him: "NEGATIVE. NEGATIVE. 1509. 1509"
Me: "ROGER. 1509. IS THAT A QSL?"
Him: "ROGER ROGER"Me: "THANK YOU. 73 "
"QSL QSL"
Him: "9V1BC, YOURE 59, 1509"
Me: "59, 1509. IS THAT A QSL?"
Him: "QSL. QSL"
Me: "THANK YOU. 73 "
"Over Over"
Me: "CQ CONTEST. 9V1BC. CONTEST"
Him: "7C8C"
Me: "7C8C?"
Him: "OVER OVER"
Me: "7C8C, 59, 060 "
This contest got so addictive I decided to pass on lunch and dinner. I had some contest rations on me, so I consumed those as my "meal" instead. I would have continued the contest through the night, but my mom called me at 2am and chased me home. So too bad for me. This is a map of the QSOs I made by the time the contest ended. I logged a total of 88 contacts (pun unintended). To be brutally honest, 88 is nowhere impressive. Many other stations rack up thousands of QSOs. My 88 is not much numerically, but it is a huge morale booster for me. For many months, I complained about the terrible noise level and poor propagation on HF. It was hard to even establish a FT8 QSO, let alone a SSB one. This contest proved me wrong, and I'm happy that it did. It is possible to have SSB contact with just about anyone anywhere with a humble setup and 100W.
Acknowledgement
I would like to convey my thanks to all the HAMs who shared their invaluable experience, advice, knowledge and even gear with me to get me started in HF, especially Daniel 9V1ZV, James 9V1YC, Peter 9V1PK, Roland 9V1RT, Ben 9V1KB, Darryl 9V1DE, Emmanuel F5LIT, and Jie Feng 9V1BD, who introduced me to HAM radio back in 2018 in the first place!
It makes no sense to do HAM alone. Part of the fun comes from making, laughing at and learning from silly mistakes I make along the way. You make my HAM experience fun and meaningful, and for that, I thank you.
73 Solomon, 9V1BC